7. Pay stamp duty and get your money.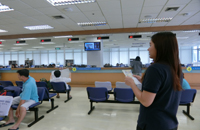 Winning tickets can be redeemed at: The Government Lottery Office (Sanambin Nam) 359 Nonthaburi Road, Tha Sai Amphoe Mueang Nonthaburi, NONTHABURI Tel. 0-2528-8888
Office Hours: Mon. – Fri. (closed on public holidays) Office Hours: 08.30 a.m. – 3.00 p.m. (Open during lunch) (For more information, please contact Chief of Department of Prize Payment) Tel.0-2528-9621 (Please bring your ID card)
Suggestions: 1. Complete the prize claim form: There are 2 types of form: 1.1 Government lottery 1.2 Charitable lottery 2. Conditions of prize payment * Paid amount not more than 20,000 Baht:Pay in cash (winners are subject to pay stamp duty). * Paid amount exceeded 20,000 Baht: Pay by check (Net of stamp duty). 3. All winners are subject to stamp duty; 0.50% on government lottery and 1% on charitable lottery.
Winning tickets can be redeemed at: The Government Lottery Office (Sanambin Nam) 359 Nonthaburi Road, Tha Sai Amphoe Mueang Nonthaburi, NONTHABURI Tel. 0-2528-8888
Office Hours: Mon. – Fri. (closed on public holidays) Office Hours: 08.30 a.m. – 3.00 p.m. (Open during lunch) (For more information, please contact Chief of Department of Prize Payment) Tel.0-2528-9621 (Please bring your ID card)